One of the most important aspects to archive success in your life is taking care of your health – body, mind, and spirit. Looking inwards and taking care of your own well-being is the first step to achieve happiness and your own "personal" success. I really believe in taking care of yourself, since your performance in all other aspects of your life, completely depend on how healthy you are. Other than trying to work out 5 to 6 days a week, I also make sure that I have as healthy as a diet that you can have. One of the best ways to have consistency in your diet everyday is to have a glass of your own homemade smoothie.

Here is a step-to-step guide, on my own personal "Green Smoothie", which makes sure I have the right amount of nutrients in my body.
Step #1:
First off, to make my smoothie, I only use and base my smoothie around 4 ingredients: spinach, banana, apple, and strawberries. After making my own smoothies and conducting my own research of "health/green smoothies" over the course of the last couples, I have relied that "less is more". The key to making a healthy smoothie is to choose your "base", which makes up over half of your smoothie. For personal preference, I choose spinach as my go too base. Spinach is one of the healthiest pieces of food that you can add into your diet. The more greens in your diet, the better off you will be.
My Ingredients:
– Spinach
– One Banana
– One Apple
– Couple pieces of strawberry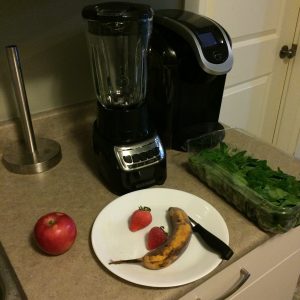 Step #2: 
Once I have all of my ingredients cut up and thawed (I freeze all of my ingredients to make the most out of their life expectancy), I add everything into my blender. Based off of the visual you see below, 60% of the blender is filled with a spinach and water base. Afterwards, I cut up and add the strawberries (two), apple (one), and banana (one). By this point, all of your ingredients should be able to blend properly, since the water base will eat up the cut up/small pieces.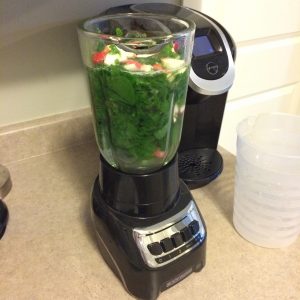 Step #3:
Depending on your blender, and the settings you are given, try to follow these 3 steps: blend, mash, and finally, liquefy the smoothie. Make sure that your smoothie is properly liquefied, and has enough water. This way you can put it in a container and keep it for around 3 to 6 days. Make sure you mix your container regularly, or before you serve yourself a glass. If you make enough of a serving, and you have at least one glass a day, you can get up to 6 days on your smoothie mix. I always try to have it last for 5 days, that way my servings are a fresh and mixed properly.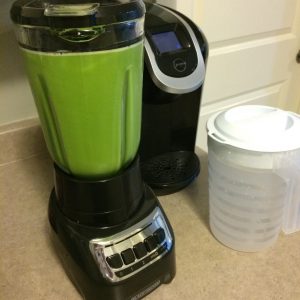 Step #4:
Finally, once you have it in your container, make sure you mix it well before you serve a glass (I have to stress this again!). I recommend serving a small glass in the morning, and having a glass after you workout. One of my favorite things to do after I work out is drink my smoothie and protein shake, which helps cleanse your body, and get the right nutrients in you. I mentioned this twice already, but I will say it again.. Shake and mix before your serve yourself a glass!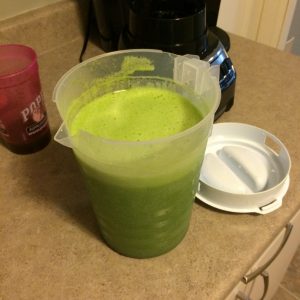 Adding in the right (and healthy..) ingredients to your body, will help you tackle all aspects of your life. Always remember that your personal and professional lives are attached – kill it in both areas. Take care of yourself!

Thanks for reading!

Total Ten Studios Ltd. Project
For the course of a few weeks, I spent a lot of time developing 'Total Ten Studios' Instagram account. It was something that came up over getting my haircut done by the owner, Angelo Carusi. For the better part of almost 8 years now, Angelo has been my man, when it comes to getting my hair done. Angelo is an old school Italian/Canadian business owner, who likes doing business the traditional way. When the topics we have discussed were around business and social media, Angelo was always very upfront with how he did not know enough about it to even bother putting his business online with Facebook, Instagram, or any of the other social media outlets.
To top it off, he is a star enough business owner to know that the majority of marketing and advertising companies out there charge way too much, and rip off business owners. This is something that I have heard time and again, for the better part of the last couple years. So, back in the middle of October (2017), I mentioned to Angelo that I would help him out, and create their Instagram page, and help update their Facebook page as well. Anglo told me that he was game, and he let me go ahead with what I had to do. 

I went right at it…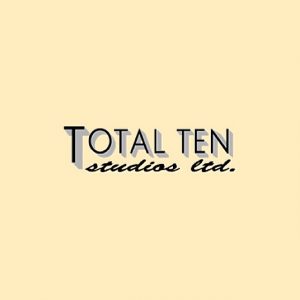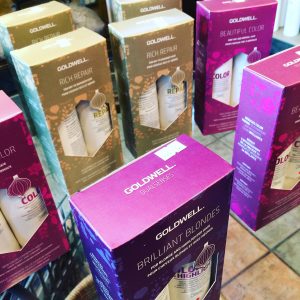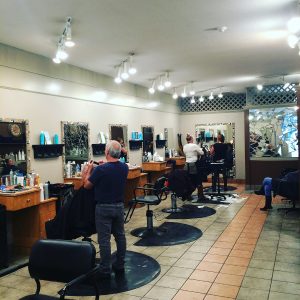 After spending a few weeks putting together 'Total Ten's' Instagram account, getting it off the ground, and connecting their Facebook page to be "on the same page" (no pun intended..); I was really satisfied with the work I put together. What makes me so proud about helping out 'Total Ten Studios' is that I was able to give them the jump start they need, and educate one of their stylists Tiffany, on the different ideas and strategies they can move forward with. At the end of the day, there is no point going to a marketing or advertising firm, and let them make posts on a company culture they are not a part of. It's about educating the people in the company, giving them ideas and strategies, and then letting them take it in their own direction.
I'm really looking forward to see how 'Total Ten Studios' will go moving forward, now that they have their Instagram and Facebook platform on the right path. I really hope that all of the staff members get involved, and that 'Total Ten Studios' will continue to grow and flourish as a successful salon in Kamloops, British Columbia. I look forward to keeping in contact with them, and giving them advice and suggestions on how they can grow their platform even better. The key to helping businesses grow, with regards to social media, company culture, and branding, is to educate those involved in the business. If Elon Musk doesn't waste money on advertising and marketing firms, why should you? I love educating and helping businesses grow from within.
Thanks for reading!